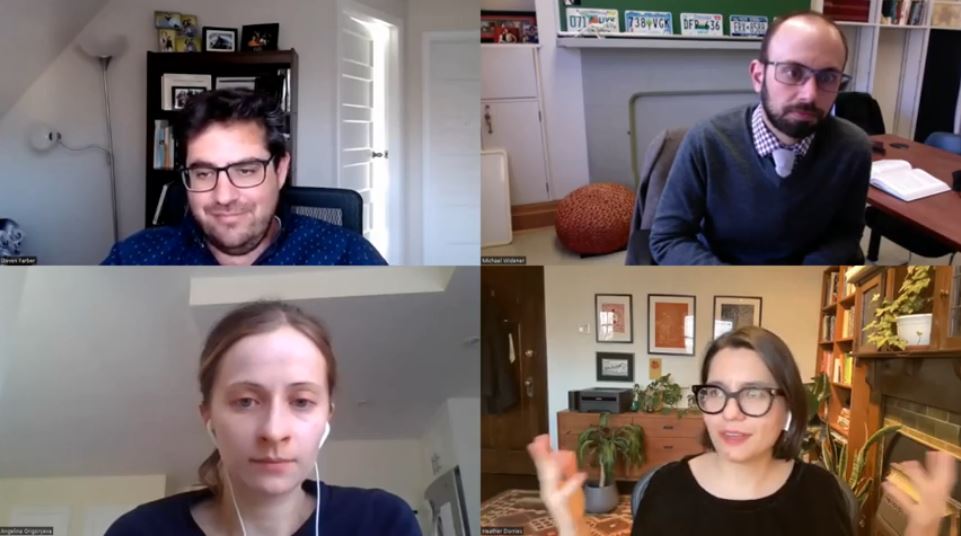 Mobility Network presented "Leading the way to transportation equity" panel discussion as part of The Way Forward series on March 29, 2022. The session was hosted by Dr. Judy Farvolden, Executive Director of Mobility Network, and moderated by Michael J. Widener, Canada Research Chair in Transportation and Health, Associate Professor in Geography & Planning at University of Toronto, and Director of the Health Studies program at University College
The moderated panel discussion featured researchers with different fields of expertise who shared their research and perspectives on transportation equity.
The panelists spoke on these topics and many more:
the Indigenous concept of transmotion and how struggles for transportation equity are also struggles for personal and community sovereignty.
the impacts of lack of access to transportation on health and wellbeing as well as access to economic and social opportunities.
the need to include community-oriented approaches in transportation planning, and consider individual outcomes.
the role of debt on household location choice, which affects mobility choices.
Quotes from panelists
Professor Heather Dorries is an assistant professor in the Centre for Indigenous Studies and the Department of Geography and Planning, University of Toronto. Her research focuses on the dynamic interplay between insurgent Indigenous world-making and the violence of settler colonial urbanization.
"Indigenous scholar Gerald Vizenor describes 'transmotion' as continuous sovereignty or the natural right of motion. So it's gesturing towards a political  status, rather than simply a state of being in motion. So what this means is, from this perspective, is that when we think about motion and struggles for transportation, that these are also struggles for personal and community sovereignty." – Professor Heather Dorries
Professor Angelina Grigoryeva is an assistant professor in the Department of Sociology at the University of Toronto. Her research examines the economic lives of households with focus on both between and within household inequalities. She examines how gender and race shape economic activity, including both paid and unpaid labour.
"We live in a society where access to  transportation and transportation equity and inequity are very much place-based, and they are shaped by credit and debt. However, the distribution of household debt is highly unequal and it is highly stratified. … It privileges more advantaged, higher-income families, with important implications for transportation inequity." – Professor Angelina Grigoryeva
Professor Steven Farber is an associate professor in the Department of Human  Geography at the University of Toronto Scarborough. He is an accomplished  transportation geographer and spatial analyst who's published widely on the topics of equity and urban transportation, and he is currently Principal Investigator of the SSHRC partnership project Mobilizing Justice.
"I think that it's just so important that technocrats and community planners are top-down and bottom-up, that we need to convene, and we need to jointly redefine what success means when it comes to transportation planning, and therefore redefine our key performance indicators that are used to assess our transportation projects. … It really needs to be done in partnership with the community." – Professor Steven Farber
Want to hear more? Watch the full presentations & the panel discussion
Resources
About The Way Forward
Researchers from across U of T bring home the many ways mobility affects our lives in The Way Forward, a panel discussion series. Join the conversation!
All sessions take place on Tuesdays from 4:00 p.m. to 5:00 p.m. online and are free. Registration is required.
An introductory overview will be followed by short presentations, a moderated panel discussion, and audience Q & A. Events are recorded and shared.
Interested in more The Way Forward sessions?
See the complete Spring 2022 schedule for The Way Forward. Registration is open for all talks.
About Mobility Network at the School of Cities
Transportation and mobility touch virtually all aspects of our lives. The Mobility Network is a multidisciplinary, collaborative, and diverse network of mobility researchers that connects the University of Toronto's exceptional strengths in data sciences, engineering and social sciences to address the technological, social, environmental and health disruptions facing society globally. Through interdisciplinary basic and applied research, Mobility Network will identify pathways to more equitable and efficient urban mobility, provide the evidence and decision-support needed for effective and lasting societal change, and have profound implications for individual well-being, resilient, sustainable and just urban growth and prosperity, and, ultimately, our planet's future.
Mobility Network is an Institutional Strategic Initiative of the University of Toronto.