Selected Professional Appointments
Transportation Network Modeller, Travel Modelling Group (TMG), University of Toronto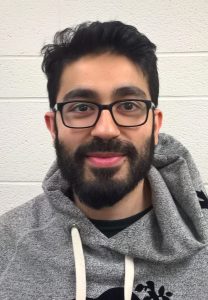 Bilal Yusuf (MEng CEM, BEng) is the Network Modeller at TMG. He is responsible for consolidating transportation network data from the various partner agencies, testing of travel assignment simulation procedures, and the development and improvement of TMG's EMME tools. As a graduate of the Cities Engineering and Management program at the University of Toronto, he is knowledgeable about the interaction of transportation and city growth and therefore the need for more informed, sustainable decisions about transportation.
He currently takes public transit to work.
Specialty Focus Areas
Network modelling, simulation, transportation tool development.
Email: bilal.yusuf@utoronto.ca
Phone: (416) 978-3916
Website: http://tmg.utoronto.ca/