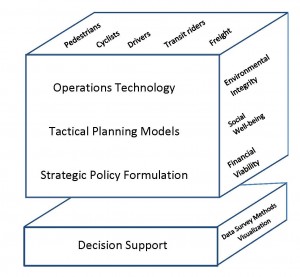 UTTRI brings together 25 experts from engineering, economics, policy, urban geography and planning and computer science. Individually, UTTRI members are internationally renowned for high quality research in transportation from the perspectives of engineering, science and humanities.
Current Projects: Waterfront Toronto Survey
Collectively, their expertise and knowledge span the domains required to analyse practical problems in transportation policy and decision making
from strategic policy formulation and integrated transportation network planning and land use modelling to operational management
across every urban transportation mode used by drivers, cyclists, pedestrians and transit riders,
considering the implications on economic, social and environmental sustainability
resting on a solid foundation of survey methods that have resulted in comprehensive travel data collected over decades on which performance measures have been built.
Data
The Transportation Tomorrow Survey is the largest on-going urban travel survey program in the world.
The ITS Centre and Testbed provides an instrumented, multijurisdictional, multiagency transportation operations
The microsimulation traffic model of the Greater Toronto Area accurately simulates traffic patterns allowing transportation analysts to study the impacts of a wide range of scenarios.
Survey Methods
Smartphone-based automated activity-travel data collection
Data augmentation to supplement regional household travel survey data
Strategic Policy Formulation
Public private partnerships
Transportation requirements for international trade
Infrastructure planning, development and financing for environmental, social and economic sustainability
Local and regional innovation systems and industrial clusters
Implications on transportation planning of networked and distributed work
Tactical Planning Models
Integrated models of traffic simulation, vehicle emissions and population exposure
Multimodal transportation and traffic flow microsimulation
Integrated travel demand and land use modelling
Public transportation planning and operations
Demand forecasting/modelling/management
Transportation planning for massive events
Models of logistics goods movements
Modelling extreme events
Urban metabolism
Operations Technology
Public transit operations
Intelligent transportation systems
Infrastructure management
Automated vehicle supervisory control
MARLIN adaptive traffic signal control technology
Techno-economic and environmental performance of alternative fuels and vehicles systems