Transformative and automated technologies affecting transportation systems the focus of UTTRI's new centre
The iCity Centre for Automated and Transformative Transportation Systems (iCity-CATTS) was approved for three years of funding from the Dean's Strategic Fund by Dean Cristina Amon, Faculty of Applied Science and Engineering.
The centre is the first at UofT mandated to study how 'smart' transportation technologies, such as automated vehicles and e-sharing, will affect people's transportation choices, how businesses provide transportation as a service, and how cities should plan for those changes to achieve the best results for society.
iCity-CATTS will assemble a multidisciplinary team to create analysis tools, methods, models and decision support systems to quantify the impacts of transformative transportation technologies on transportation demand, system performance, health, the environment and society at large.
Upcoming Events
Nov
2
Thu
6:30 pm
Understanding Smarter Cities: Wh...

@ Innis Town Hall
Understanding Smarter Cities: Wh...
@ Innis Town Hall
Nov 2 @ 6:30 pm – 8:30 pm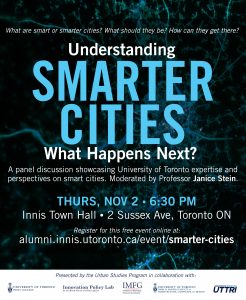 The Urban Studies Program at Innis College invites you to a panel discussion, "Understanding Smarter Cities: What Happens Next?" The event is free but registration is required. This panel discussion will showcase U of T...
Read more »