Is Uber a Substitute or Complement to Public Transit?
This figure shows that two years after Uber's entry, transit ridership is more than 5% higher than it would have been. See 2017 paper by Jonathan Hall, Craig Paulsson, and Joseph Price.


UTTRI
The University of Toronto Transportation Research Institute
Re-imagining urban transportation: inter-disciplinary research for real-world solutions.
Hon. Steven Del Duca with UTTRI Graduate Students
UTTRI students lunched at the Canadian Club Toronto's Youth and Young Leaders Table on April 4 to hear the talk by Ontario's Minister of Transportation, "Building, Planning and Delivering 21st Century Transportation."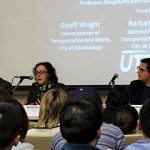 Clean Ride Mapper
The Clean Ride Mapper shows the fastest and cleanest choices of route between two points in Toronto. UTTRI Professor Marianne Hatzopoulou presented recent findings based on data from the summer of 2016 on February 17 at the UT-ITE Friday Seminar Series.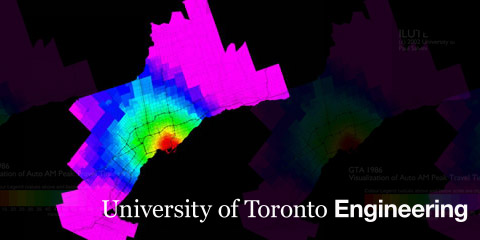 ILUTE
Eric J. Miller leads the development of the Integrated Land Use, Transportation, Environment (ILUTE) model system, a state-of-the-art agent-based, microsimulation system for the GTHA.
An Urban Transportation Think Tank for Policy Analysis & System Design
UTTRI is a new initiative that brings the considerable depth and breadth of University of Toronto research to bear on real-world urban transportation problems from perspectives of engineering, humanities and science. It is a solution-oriented think tank that fills a critical gap between traditional academic basic research, professional consulting and public sector transportation planning and operations. Building upon our research expertise and working relationships with both the public and private sectors, UTTRI seeks solutions to pressing problems facing our cities, such as: cost-effective suburban transit systems; politically acceptable road pricing systems for network performance optimization; dynamic real-time control of road and transit systems for capacity maximization; improved urban logistics systems for goods movements; improved urban and street design for walking and cycling; etc.
How we design, build and operate our cities will directly determine our economic prosperity, environmental sustainability, health and social well-being. Major transportation challenges can be solved and major new opportunities can be exploited only through coordination and integration of multiple areas of research. The raison d'etre of UTTRI is to provide the coordination and integration needed to support large-scale, high-impact research, to provide the foundation for a comprehensive central hub for transportation-related research at the University of Toronto and to support research partnerships the University of Toronto establishes with other institutions around the world.