Selected Professional Appointments
Associate Professor, Department of Civil Engineering, University of Toronto
Director, Centre for Civil Informatics, University of Toronto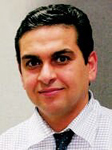 Professor El-Diraby's work focuses on the use of and knowledge management tools to study and develop strategies for the e-city as means to realize the green-city. His research utilizes social and semantic web technologies to enhance and upgrade management systems in civil infrastructure with focus on: process management, interdependency, asset management systems and context-sensitive design and construction. Professor El-Diraby has advised public and private sector organizations in the areas of project management, policy analysis, and international benchmarking. He has worked as a consultant to the Riyadh Technology Valley (RTV), a science park at King Saud University. This included supporting the assessment of R&D priorities, stakeholders' management, and site master planning to support the construction of a sustainable and smart city.
Specialty Focus Areas
Construction project management, knowledge management systems (ontology, semantic systems, process management); infrastructure management systems (asset management, sustainable construction); context sensitive design (value analysis, constructability analysis) .
Email: tamer@ecf.utoronto.ca
Phone: (416) 978-8653
Website: http://www.civil.engineering.utoronto.ca/staff/professors/eldiraby.htm