Bikeways & Business on Bloor – Research Webinar
January 23 @ 1:00 pm

-

2:00 pm
Hear from an expert panel – including UTTRI associated faculty Professor
Steven Farber
– and learn what's next for Bloor.

About this event
What happens when you remove over half of the on-street parking on a vibrant commercial downtown main street to install a bikeway? In 2016, this is what the City of Toronto did on Bloor Street West between Avenue Road and Shaw Street.
The Centre for Active Transportation (TCAT), in partnership with the University of Toronto, conducted a comprehensive research study to investigate the economic impacts – positive, negative, or neutral – of the bike lane, as well as its effects on the travel patterns and attitudes of visitors and merchants.
Join us for a deep dive into the research. Hear from a panel of researchers about the study findings, from a representative of one of the BIAs that funded the study, and from city staff about what's next for Bloor St West.
Details
A panelist presentation will be followed by a webchat Q&A.
A webinar link will be emailed once you register.
Speakers and topics
Brian Burchell, Bloor Annex BIA Chair

Why and how the BIA was involved in the study; words of wisdom for other BIAs

Nancy Smith Lea, Director, The Centre for Active Transportation, Clean Air Partnership

Study overview; six key results and nine common questions

Lee Vernich, Director, Office of Research, Dalla Lana School of Public Health, University of Toronto

What was the study methodology? What data was collected and how?

Dr. Steven Farber, Assistant Professor, Geography & Planning, University of Toronto

How was the data analyzed? What are the most interesting findings?

Adam Popper, Project Manager, Cycling Infrastructure & Programs

What does the City have in store for extending the Bloor bikeway? What are the opportunities for public consultation on the extension?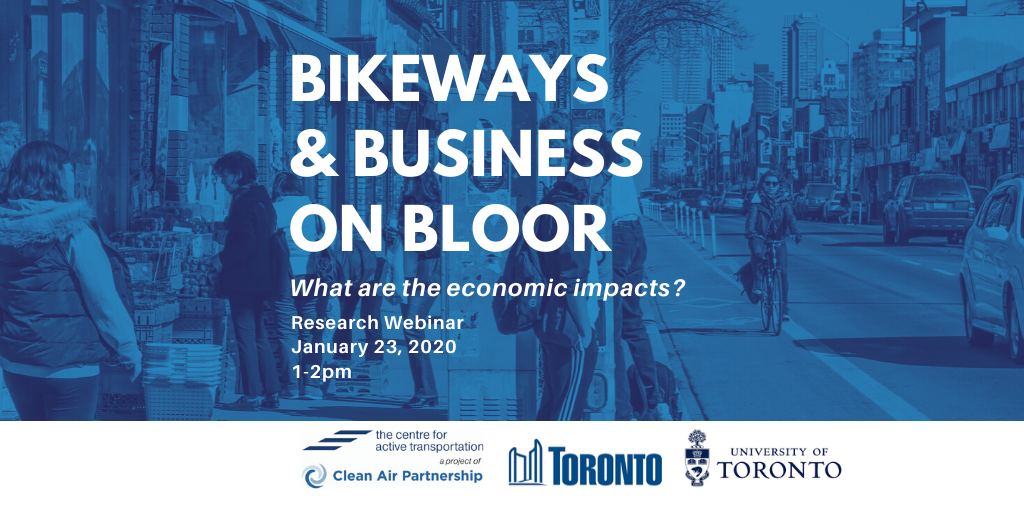 This webinar is offered by The Centre for Active Transportation at Clean Air Partnership, the City of Toronto and the University of Toronto.
Related content