City Building Ryerson presents "Smart Freight: Safe, Green & Efficient Goods Delivery"
May 7 @ 12:00 pm

-

1:00 pm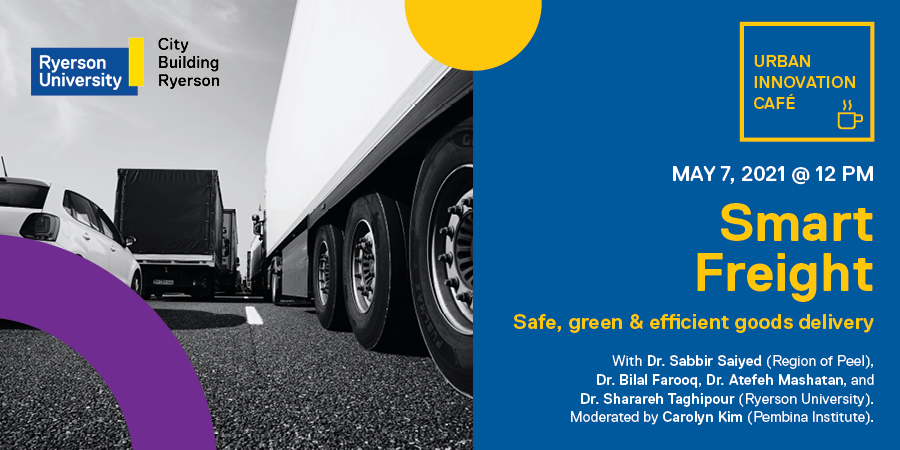 City Building Ryerson's Urban Innovation Café event series brings together diverse leaders, experts and policy makers to discuss current urban innovations and their potential to solve problems in a moderated discussion and Q&A.
On May 7, from noon to 1 PM, they proudly host advanced experts in transportation, management, logistics and cybersecurity for a discussion of today's challenges related to urban freight, and the research the Ryerson faculty members will be contributing as affiliates to the Smart Freight Centre to improve the safety, efficiency and environmental impact of goods delivery in the region.
Register to attend this conversation from some of the region's foremost leaders in the transformation of freight systems, and discover the latest thinking on the future of freight.
With welcoming remarks from Dr. Steven Liss, VP, Research and Innovation, Ryerson University.
Moderator
Moderator Carolyn Kim is the Ontario regional director with the Pembina Institute, Canada's foremost clean energy think tank on energy and environmental issues. She is a registered professional planner and has about 15 years of transportation and land use planning experience from the public, private and not-for-profit sectors. In her role, she brings her policy expertise and strong partnership-building skills to advance practical solutions that support a clean and efficient transportation system in Canada.
Speakers
Dr. Sabbir Saiyed is currently Manager of Transportation System Planning at the Regional Municipality of Peel, and is one of the founding members of the Smart Freight Centre. He has over 25 years of experience in progressively responsible positions in civil engineering, transportation and management.
Dr. Bilal Farooq is Canada Research Chair in Disruptive Transportation Technologies and Services; Associate Professor of Civil Engineering; and the Director of the Laboratory of Innovations in Transportation (LiTrans Lab) at Ryerson University.
Dr. Atefeh Mashatan is Associate Professor at the Ted Rogers School of Management and Director of the Ryerson Cybersecurity Research Lab, Ryerson University.
Dr. Sharareh Taghipour is Associate Professor and Director of the Reliability, Risk and Maintenance Research Laboratory, Department of Mechanical and Industrial Engineering, and Canada Research Chair in Physical Asset Management, Ryerson University.
Register
Free. All welcome. Register on the City Building Ryerson event page.
---
For more freight news and events
Interested in receiving research, news and events from the Smart Freight Centre directly?