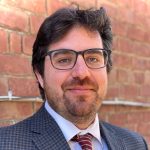 Research by Professor Steven Farber, Dept. of Human Geography, and Dr. Willem Klumpenhouwer, postdoctoral fellow at the Transit Analytics Lab, is referenced in the "On Demand Transit Toolkit" recently released by the Canadian Urban Transit Association (CUTA).
Klumpenhouwer's May 2020 report "The State of Demand Responsive Transit in Canada" investigates the state of practice of demand-responsive transit in Canada. Klumpenhouwer is well known for his research in the field of on-demand transit.
Farber is Project Director of Mobilizing Justice, a multi-sector research partnership committed to solving transportation inequities in Canadian cities. He looks at how demand-responsive transit may help to increase transportation equity in "Eliminating barriers to nighttime activity participation: the case of on-demand transit in Belleville, Canada," co-authored with Yixue Zhang and Mischa Young, published in 2021 in Transportation.
Related content