Selected Professional Appointments
Senior Software Architect, University of Toronto Transportation Research Institute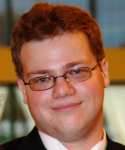 James is responsible for the development and maintenance of the transportation modelling and related software generated and used by UTTRI.  He also acts as a technical resource to staff and researchers while supervising a team of UTTRI programmers and analysts in support of UTTRI research projects.  James graduated from the University of Toronto with his H.BSc (Computer Science, Software Engineering) in 2008.
Specialty Focus Areas
Travel Demand Modelling; Agent Based Modelling; High Performance Computing.
Email: james.vaughan@utoronto.ca
Phone: (416) 978-3136
Website: http://tmg.utoronto.ca