Selected Professional Appointments
Associate Professor, Department of Civil and Mineral Engineering, University of Toronto
Director, Centre for Civil Informatics, University of Toronto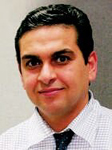 Professor El-Diraby's work focuses on the use of and knowledge management tools to study and develop strategies for the e-city as means to realize the green-city. His research utilizes data analytics to enhance project management, and asset management practices. He uses social and semantic web technologies to help discover means to empower citizens and project proponents to create, share and evaluate ideas and support collaborative decision making. Professor El-Diraby uses machine learning and building information melding (BIM) tools to promote understating the role of behavior change in promoting energy savings in smart buildings.
Professor El-Diraby has advised public and private sector organizations in the areas of project management, policy analysis, stakeholders' management, and construction informatics.
Specialty Focus Areas
Construction project management; building information modeling; smart city infrastructure (asset management, business intelligence); socio-semantic analytics for community engagement.
Email: tamer@ecf.utoronto.ca
Phone: (416) 978-8653
Website: http://www.civil.engineering.utoronto.ca/staff/professors/eldiraby.htm