Selected Professional Appointments
Professor, Department of Mechanical and Industrial Engineering, University of Toronto
Canada Research Chair in Novel Optimization and Analytics in Health
Director, Centre for Healthcare Engineering, University of Toronto
Director, Centre for Analytics and AI Engineering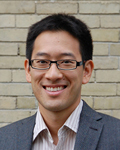 Professor Chan received his BSc in Applied Mathematics from UBC, and his PhD in Operations Research from MIT. Before coming to Toronto, he was an Associate in the Chicago office of McKinsey and Company, a global management consulting firm. During that time, he advised leading companies in the fields of medical device technology, travel and hospitality, telecommunications, and energy on issues of strategy, organization, technology and operations.
Professor Chan received the George B. Dantzig Dissertation Award from INFORMS (2007), an Early Researcher Award from the Ministry of Economic Development and Innovation of Ontario (2012), Teaching Award, Faculty of Applied Science and Engineering, University of Toronto (2019 and 2020), an Early Career Teaching Award from both the U of T Department of Mechanical and Industrial Engineering (2012) and the U of T Faculty of Applied Science and Engineering (2013), second place in the INFORMS Section on Public Programs, Service and Needs best paper competition (2012), and first place in the MIT Sloan Sports Analytics Conference research paper competition (2013). His research has been featured by the CBC, CTV News, the Toronto Star, and Canadian Business magazine.
Operations research; optimization under uncertainty; application of optimization methods to problems in healthcare, medicine, global engineering, sustainability, and sports; mathematical programming; probabilistic analysis of systems; applications to radiation therapy; health care operations; sustainability; sports analytics.
Email: tcychan@mie.utoronto.ca
Phone: (416) 946-5721
Website: http://chan.mie.utoronto.ca/