New research on anticipated impacts of automated transportation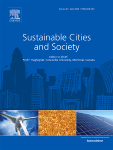 "Automated, electric, or both? Investigating the effects of transportation and technology scenarios on metropolitan greenhouse gas emissions" was published  in Sustainable Cities and Society (Volume 40, July 2018, Pages 524-533). Authors are An Wang, Christos Stogios,Yijun Gai, James Vaughan, Gozde Ozonder, SeungJae Lee, Daniel Posen, Eric  J. Miller and Marianne Hatzopoulou.
The anticipated impacts of automated transportation are numerous. Of importance are the effects on energy consumption and greenhouse gas (GHG) emissions. Can automation promote low carbon transportation? Another question often raised relates to the appropriateness of current tools. Will existing tools become irrelevant in the face of the disruptive changes or can we extend the capabilities of our models to broadly capture the effects of automated transportation?