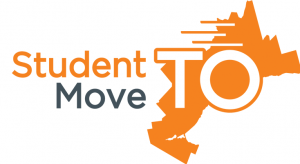 The negative effects of increasingly long commute times in the GTHA have been widely reported.
Last week, researchers and partners launched a survey to gather data specifically on the commutes of college and university students. The goal? To help transportation planners and policymakers take student travel needs into account.
StudentMoveTO 2.0, a research project to study student travel behaviour, is emailing a travel survey to about 600,000 GTHA students in the period October 1 to mid-November.
The StudentMoveTO 2.0 project launched September 24 with an event entitled "#HowDoYouMove?" at Metro Hall. Many team members, partners, and student contributors attended.
The three-year research and partnership program aims to improve understanding of the travel behaviour of post-secondary students across a wide swath of  the Greater Toronto and Hamilton Area (GTHA).
Dr. Raktim Mitra, from the School of Urban and Regional Planning at Ryerson University, and Dr. Khandker Nurul Habib, from the Department of Civil and Mineral Engineering at the University of Toronto, are leading this transportation survey-based research.The 2.0 project is the second iteration of the StudentMoveTO survey in 2015 which had a considerably smaller scope with only four participating Toronto universities.
and four government and community partners:
City of Toronto
Maximum City
Metrolinx
Toronto Centre for Active Transportation (TCAT)