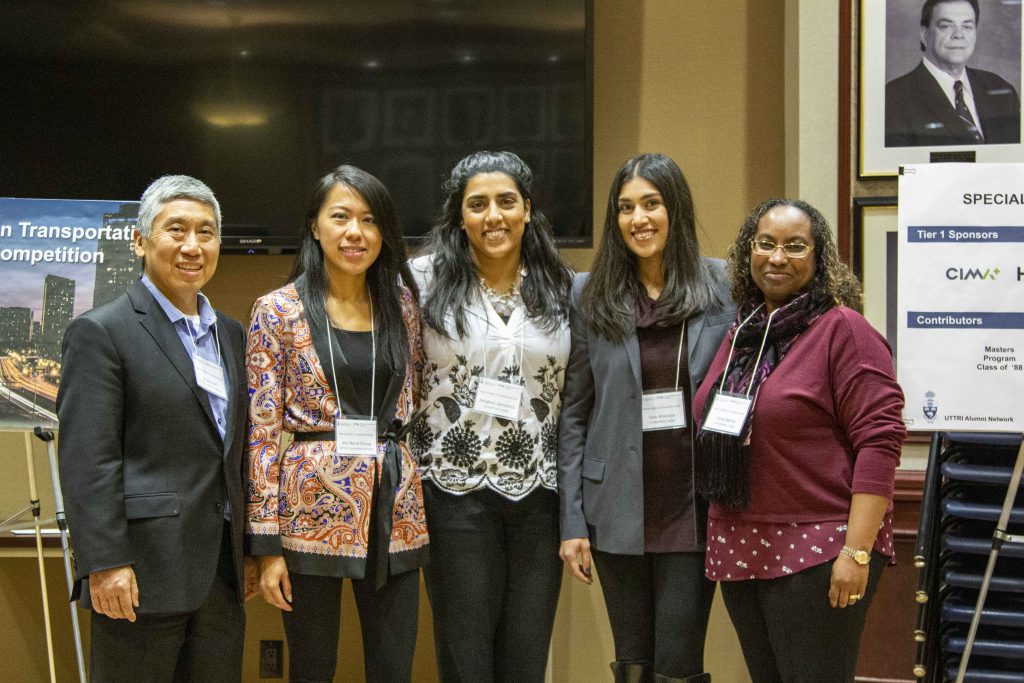 About 50 U of T transportation alumni returned to the University of Toronto the evening of Thursday, November 14th, 2019 to see familiar faces and meet new, mingle, listen to two student project presentations and take part in a friendly alumni Pub Night.
The New Frontiers in Transportation student competition presentation and Pub Night event was the brainchild of the recently formed U of T Transportation Alumni Committee. a group of U of T graduates working in the transportation field.
Following the June competition launch and several months of work, two teams of students from various U of T departments presented their final New Frontiers in Transportation projects on November 14, analyzing a pressing issue and proposing innovative solutions.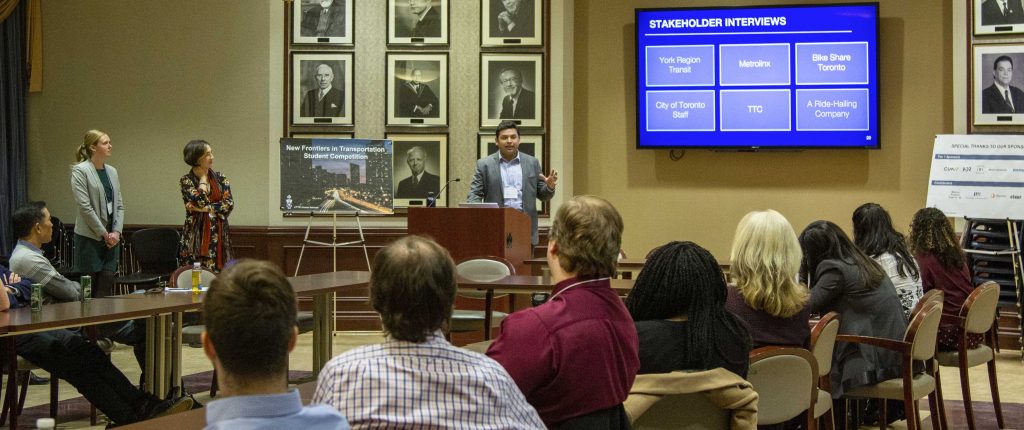 Judges Sara Khawaja, Meaghan Mendonca and Carol Ogilvie had the difficult task of asking hard questions and selecting the winners.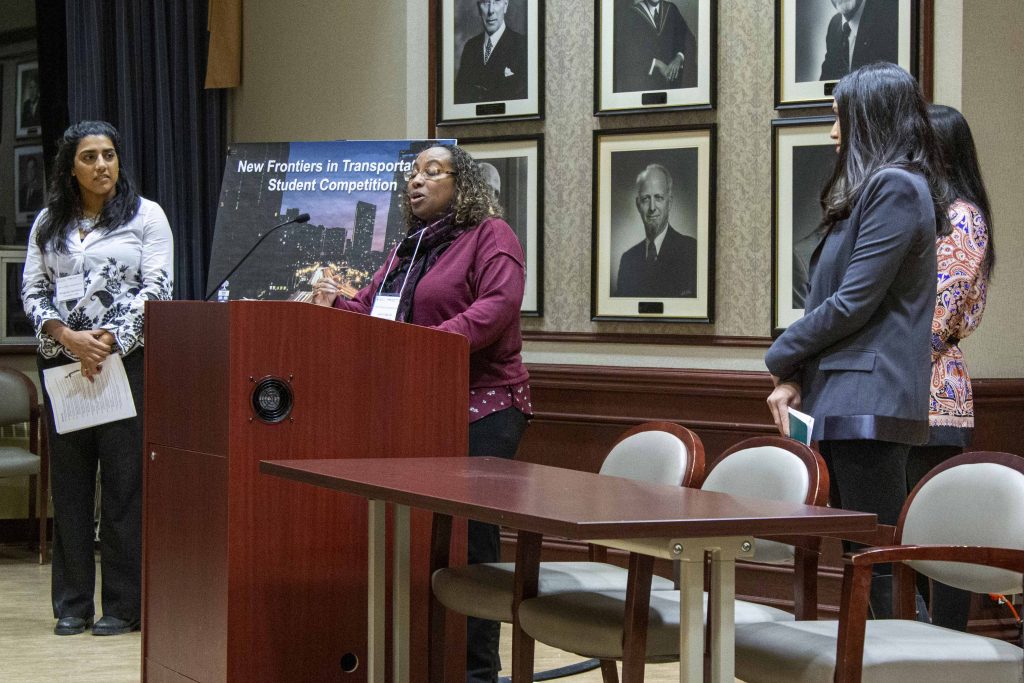 The winning team of Adheesh Boratkar (ECE MASc 20), Nazli Kaya (MIE MASc 19) and Karina Maynard (MScPl 20), presented "Reducing short-distance car trips in Toronto" and were awarded certificates and $550 each.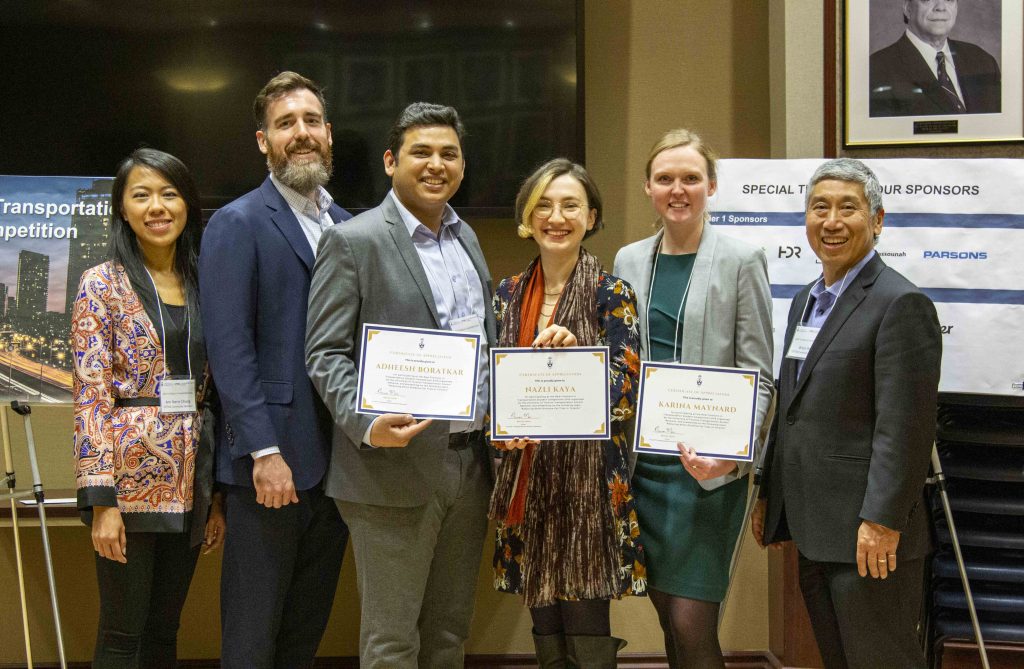 The second place team, Patricia Arnold (MScPl 21), Jason Hawkins (CivE PhD 21) and Ran Tu (CivE  PhD 20) ), presented "Low hanging fruit: Improving the experience of riding the bus" and received certificates and $450 each.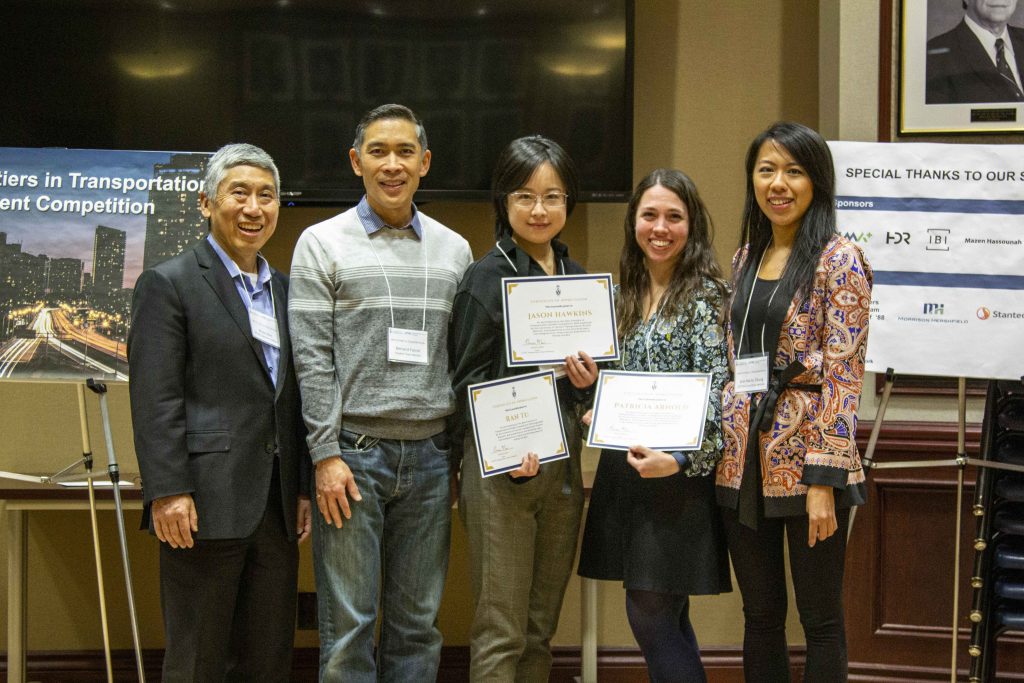 Transportation alumni student mentors Lauren Crawford, Bernard Farrol (CivE MEng 88), Adam Wenneman (CivE MASc 14), and Yunfei Zhang (CivE BASc 13, MASc 15) provided insight and guidance to the two teams throughout the project.
Following the student competition the crowd moved to the Prenup Pub right across College Street to share snacks and drinks and catch up in a casual environment.
The U of T Transportation Alumni Committee expressed thanks to all who made the competition possible, including sponsors of the 2018 Transportation Alumni Reception.
They encouraged U of T alumni who studied or are now working in the transportation field to subscribe to the Transportation Alumni Network to receive notice of events, including a Transportation Alumni Reception planned for Spring 2020.