Mobility Network presented "Governing transit and integrated mobility," the second panel discussion in The Way Forward series, on March 15, 2022. The session was introduced by Professor Eric Miller, Mobility Network Director.
The panel discussion featured three researchers from different fields of interest sharing their perspectives on achieving effective, equitable mobility governance, and was followed by a discussion and Q & A moderated by Dr. Judy Farvolden, Executive Director of Mobility Network.
Elena Goracinova is a postdoctoral fellow at the Innovation Policy Lab of the Munk School of Global Affairs and Public Policy. Her current research interests focus on the politics of innovation and urban transportation systems.
She shared a short overview of her report, "Integrated Mobility and the Governance of Urban Transit," including her research question, goals and some findings.
The report explored the disruption of private actors and new technologies in transportation, for example, on-demand mobility services like Uber and Waze, and how they are changing the roles of government and vehicle providers in the emerging mobility ecosystem.
Goracinova then went on to discuss the existing governance strategies for new smart technologies and their effectiveness.
"As a policymaker, how do you decide what to invest in? … Do you invest in on-demand mobility and invest in partnerships with ride-hailing providers, or making your transit on-demand? Or do you invest in bikeability? Or do you do both? The tradeoffs need to be considered with the need to reduce our dependence on cars in mind." – Dr. Elena Goracinova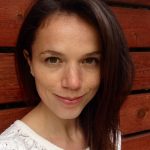 Theresa Enright is an associate professor at the Department of Political Science and her research examines urban and regional politics with a focus on infrastructure and mobility. Enright's most recent work considers the cultural dimensions of transportation through analysis of the art, architecture and design of urban rail systems.
Enright gave insight into her understanding of the theme of transport governance and politics. She explained how she thinks of the idea of transport governance in a broad sense and how it interacts with urban systems. She introduced two different ways to think about it: the conventional "governance of infrastructure," and the less conventional "governance by infrastructure" which considers infrastructure as a socio-technical force.
Enright then described some of her projects that touch upon this.
During the panel discussion, Enright responded to the question "How do we balance governance to bring us forward with the need to be responding to the public interests?" with:
"It needs to have both of those perspectives, I think. So there are many things that come with benefits to having centralized authority coordination and resources, but the other side is to make sure there's a democratic component, and a local component where people have a say over the decisions that are most affecting their lives." – Professor Theresa Enright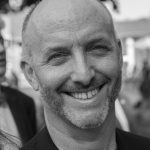 André Sorensen is a professor at the Department of Human Geography, University of Toronto Scarborough. His research focuses on the relationship between form and function in cities, particularly, urban networks and the flows of people, goods, and the information that they enable.
"The Scarborough Opportunity: A Comprehensive Walking and Cycling Network" is an academic research project supervised by Sorensen that focused on the opportunities that would be enabled by a walking and cycling network in Scarborough.
Sorensen gave a brief overview of what the report talks about, key issues raised by the transportation situation in Scarborough, and the potential opportunity for redevelopment.
"I think what is encouraging is that there actually are, a lot of people in Scarborough are now really actively mobilizing to lobby in favour of this. I think there are people in Scarborough who are sort of really stuck in the idea that cars are the only way to get around and cyclists are just in the way and really don't belong in a city except on the off-road places. But I don't think that is representative of everybody in Scarborough. I think that there actually are a lot of people who would value a better cycling infrastructure." – Professor André Sorensen
Want to hear more? Watch the full presentations & the panel discussion
Resources
About The Way Forward
Researchers from across U of T bring home the many ways mobility affects our lives in The Way Forward, a panel discussion series. Join the conversation!
All sessions take place on Tuesdays from 4:00 p.m. to 5:00 p.m. online and are free. Registration is required.
An introductory overview will be followed by short presentations, a moderated panel discussion, and audience Q & A. Events are recorded and shared.
Interested in more The Way Forward sessions?
See the complete Spring 2022 schedule for The Way Forward. Registration is open for all talks.
About Mobility Network at the School of Cities
Transportation and mobility touch virtually all aspects of our lives. The Mobility Network is a multidisciplinary, collaborative, and diverse network of mobility researchers that connects the University of Toronto's exceptional strengths in data sciences, engineering and social sciences to address the technological, social, environmental and health disruptions facing society globally. Through interdisciplinary basic and applied research, Mobility Network will identify pathways to more equitable and efficient urban mobility, provide the evidence and decision-support needed for effective and lasting societal change, and have profound implications for individual well-being, resilient, sustainable and just urban growth and prosperity, and, ultimately, our planet's future.
Mobility Network is an Institutional Strategic Initiative of the University of Toronto.