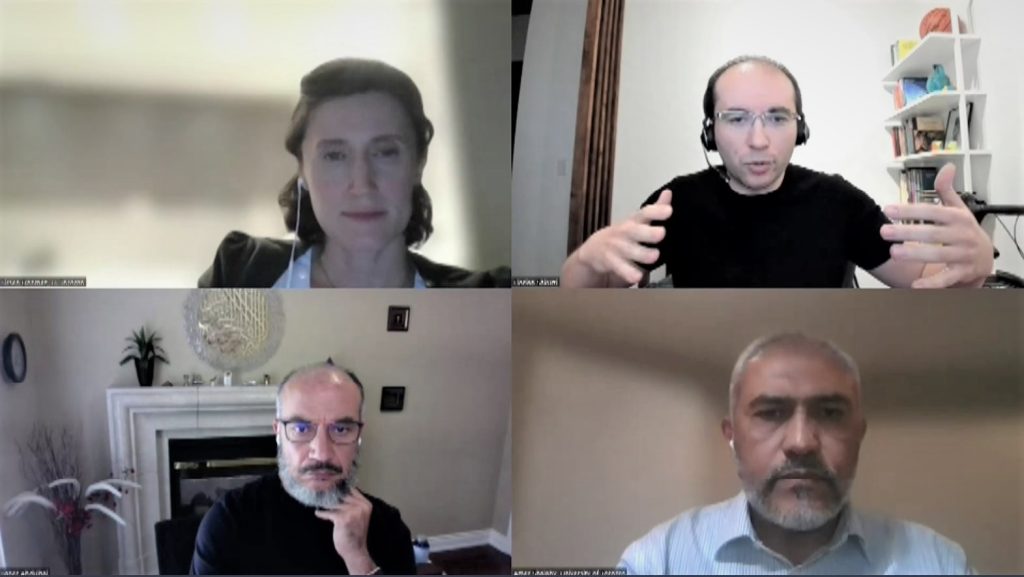 Mobility Network presented "Harnessing intelligence in transportation systems" as part of The Way Forward panel discussion series on May 31, 2022. The event was hosted by Mobility Network's Director, Dr. Eric Miller, and Executive Director, Dr. Judy Farvolden.
The session's moderator, Dr. Florian Shkurti, is an assistant professor in the Department of Math and Computational Sciences at the University of Toronto Mississauga whose research interests are in robotics, machine learning, and computer vision.
Three experts from engineering fields discussed data collection, simulation, intelligent tools, and more, as they explored strategies to improve traffic flow and reduce travel time for individuals and transit vehicles, as well as improve safety as automated vehicles become more common throughout our transportation systems.
Quotes from the panelists
Baher Abdulhai is a professor, the director of the Toronto Intelligent Transportation Systems Centre, and the co-director of the Centre for Automated and Transformative Transportation Systems at the Department of Civil & Mineral Engineering, University of Toronto. He discussed the imbalance between the demand for travel and the supply of transportation infrastructure, how it leads to congestion, and how intelligent transportation systems might address this imbalance.
"One of the things we do is utilizing artificial intelligence. Imagine a traffic light where we put eyes on it, and we put a brain on it, and it sees traffic with computer vision, or LiDAR, or even connected vehicles, and then it thinks on its own to minimize delays.

We tested this in simulation over downtown Toronto and we found that, on average, we can save about 38 per cent of the delay at an intersection. That doesn't mean 38 per cent of the cars will evaporate—but it means that if you're stopping for a minute, it will be 40 seconds instead of a minute at each traffic light, so if you pass through 20 lights then you save quite a bit of time." – Professor Baher Abdulhai
Amer Shalaby is a professor and Bahen/Tanenbaum Chair in Civil Engineering, the director of the Transit Analytics Lab, and the co-director of the Centre for Automated and Transformative Transportation Systems at the Department of Civil & Mineral Engineering, University of Toronto. His work aims to help transportation authorities respond more effectively to unexpected crises within a network. He explained how intelligent transportation systems can improve the performance of the fixed-route, fixed-schedule transit systems that we have currently, and discussed new transit services like on-demand transit and how they can be integrated into those networks.
"There is a lot of potential to harness and leverage new technologies, like GPS on buses and also automatic passenger counters that count people getting on and off the bus, and also connected and automated vehicles. Those are all technologies that we can harness, and the data they provide, coupled with advanced AI methods, to undertake and automate some of the real-time route management strategies more intelligently and efficiently.

I want to just touch upon one of the most popular and cost-effective smart route strategies, which is TSP, Transit Signal Priority, which I'm sure many of us are familiar with. It's a technology whereby when the bus is detected approaching an intersection, the signal gives priority to the bus. So if the traffic light is green, it extends the green until the bus clears the intersection. If the traffic light is red, it cuts through the red and brings the next green a little bit earlier." – Professor Amer Shalaby
Birsen Donmez is a professor, the associate chair, research, and the director of the Human Factors & Applied Statistics lab at the Department of Mechanical & Industrial Engineering, University of Toronto, and the Canada Research Chair in Human Factors and Transportation. She studies human adaptation to technology and, increasingly, her interest in driver distractions has led her to study how human operators interact with driverless vehicles. She spoke about the interaction between humans and intelligent algorithms, and explained what humans can and cannot do in vigilant mode while operating automated vehicles.
"If the driver's hands are off the wheel for a couple of seconds, then the Tesla would give a warning to the driver saying you're not paying attention. But it turns out that you can fool these sensors very easily, and there were reports of people sticking an orange on the steering wheel, which made the car think that their hands were on the wheel. That is improper use of the system.

Why would someone do something so dangerous when we know that these systems have a lot of limitations? … In my [research] group, we identified one potential reason for inappropriate reliance on Level 2 systems, which is that drivers actually do not know the majority of the limitations of the systems that they have in their vehicles.

The more complex these systems are, the harder it can be for the human operator to really understand what the capabilities or the limitations of these systems are." – Professor Birsen Donmez
Want to hear more? Watch the full presentations & the panel discussion
Resources
About The Way Forward
Researchers from across U of T bring home the many ways mobility affects our lives in The Way Forward, a panel discussion series. Join the conversation!
An introductory overview is followed by short presentations, a moderated panel discussion, and audience Q & A. Events are recorded and shared.
All Spring 2022 sessions took place online on Tuesdays from 4:00 p.m. to 5:00 p.m., and were free and open to all with registration.
Interested in more The Way Forward sessions?
Spring 2022 sessions have come to a close. See the complete Spring 2022 schedule for The Way Forward. Future events will be announced in our free weekly e-newsletter to subscribers of the Mobility Network Update, and on the new Mobility Network website (currently in development).
About Mobility Network at the School of Cities
Transportation and mobility touch virtually all aspects of our lives. The Mobility Network is a multidisciplinary, collaborative, and diverse network of mobility researchers that connects the University of Toronto's exceptional strengths in data sciences, engineering and social sciences to address the technological, social, environmental and health disruptions facing society globally. Through interdisciplinary basic and applied research, Mobility Network will identify pathways to more equitable and efficient urban mobility, provide the evidence and decision-support needed for effective and lasting societal change, and have profound implications for individual well-being, resilient, sustainable and just urban growth and prosperity, and, ultimately, our planet's future.
Mobility Network is an Institutional Strategic Initiative of the University of Toronto.