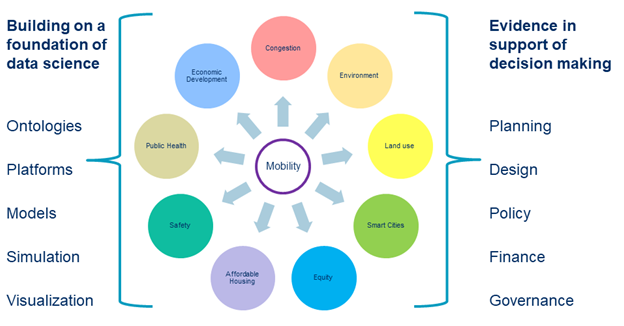 Mobility is fundamental to every aspect of modern society and is key to meeting our goals of improved sustainability, equity, and quality of life.
Transportation also results in significant energy and resource consumption, pollution, social, and economic inequities, and climate-changing carbon emissions.
Better transportation systems are key to the evolution of cities. But engineering alone won't accomplish this. We need to think holistically and understand how systems affect each other. Instead of imposing changes, we need to engage with communities and understand their perspectives. Instead of educating our youth in one lone discipline, we need to provide context so that they understand how disciplines interconnect.
"We are building things for people. Not for cars. Not for electrons or wires in the city. So, do bring people into the equation." – Professor Eric Miller
Engineering Research Days panel "Urban Engineering & Innovative Mobility: Equity, Environment, Engagement"
Four UTTRI associates were featured in a panel discussion entitled "Urban Engineering & Innovative Mobility: Equity, Environment, Engagement" on June 25, 2021 as part of  Engineering Research Days presented by the Faculty of Applied Science & Engineering online.
Professors Eric J. Miller, Tamer E. El-Diraby, and Marianne Hatzopoulou gave presentations and took part in a panel discussion and Q & A moderated by Dr. Judy Farvolden. The panel explored urban mobility challenges and opportunities through the lenses of environmental sustainability, equity, and engagement.
The panel drew an audience of about 100 and was recorded.
Discussion
Professor Eric Miller kicked off the discussion with a history of urban development, highlighting the significance of the work of civil engineers.
Transportation systems are an important pillar of support for the evolution of cities. They now face tremendous disruption due to technological innovations, shifts in social and political structures, and recently, the COVID-19 pandemic.
With the demand for transportation engineers and planners rising across the world, UTTRI, in association with faculty expertise at the University of Toronto, has strengthened the research on transportation intelligence, real-time control of traffic flows and designing next-generation traffic systems. These three factors are interconnected. Hence:
" A holistic approach that addresses the interconnection between our economic, physical, and social systems is needed to find a win-win solution for building the 21st-century cities that we desire." – Professor Eric Miller
Professor Marianne Hatzopoulou talked about the impact of transportation, the emissions it creates, and the implications of emissions on social equity.
"The transportation sector is the highest emitter of greenhouse gases (GHG) in the province of Ontario." – Professor Marianne Hatzopoulou
Hatzopoulou highlighted that the life expectancy of a person is determined by where they live, because of the impact of air and water quality. Accessibility to public places, like parks and trails, also impacts health significantly.
In terms of equity, it's important that transportation systems, services, and all types of urban amenities are distributed equitably to all urban residents. It's often the neighborhoods with the greatest social and economic hardships that have the least access to services. Innovations in urban engineering and mobility must focus on closing this equity gap.
To help design a fairer city, Hatzopoulou recommended that transportation engineers or planners:
View problems holistically, considering all the attributes in play.
Think less about the final target, and more about how we can get there.
Factor in the social benefits when creating policies.
Engage with the community and deliver a solution that suits their needs.
Professor Tamer El-Diraby talked about the influence of citizen engagement on the co-creation of cities, and the relationship between infrastructure and communities.
"Almost all of us live in cities; we all use transportation; doesn't it make sense that we would have a say in the way the city and transportation systems are built?" – Professor El-Diraby
He stressed the importance of community engagement. Empowering people from the community is important for smart cities, as it brings in innovations and ownership of the city with the support of engineers. The birth of the concept of co-creation happens when citizen scientists are encouraged.
Engagement also leads to improved equity. Before innovations – like driverless cars – arrive on the market, it is important to evaluate the community  impacts and prepare for them.
Looking to the future
Following panelists' presentations, Dr. Judy Farvolden moderated a panel discussion, and also asked questions that seeded discussion.
"What would you introduce in engineering education? How would you train the engineers of the future?" – Dr. Judy Farvolden
El-Diraby suggested an idea that is implemented in his Graduate Course on the Business of Smart Cities. The graduate students are taught beyond the traditional scope and allowed to work on actual buildings within the University of Toronto campus. The students have access to data and the opportunity to analyze the data and generate new ideas.
Hatzopoulou said that social science and the history of cities should be included in the curriculum to educate the students on what went wrong and how. She also recommended integrating economics and social science principles into engineering design and policymaking.
Miller completely agreed and suggested that an introduction to sociology and psychology would help develop a better design.
Next, the panel answered questions from the audience.
El-Diraby shared his views on today's public engagement level, observing that:
The younger generation is more idealistic, pushing to enhance equity and protect the environment by going forward with non-traditional methods, and engaging more with the community.
These ideologies are starting to pop up with several private developers and, in some cases, with government agencies; this represents good progress towards more public engagement.
For the full discussion on these and other topics – including how COVID-19 has affected the future of cities, in terms of the movement of people and the building of infrastructure – watch the videorecording of this event at the link below.